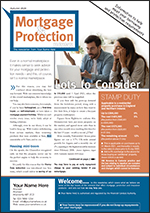 You are the most effective sales tool for your business, but you can't be everywhere and see everyone. Your own personalised newsletter will help to get both your name and sales message across to a much wider audience.

A newsletter will raise initial questions in the recipients' mind that will then require your input. This means it can generate leads, and ultimately sales.

It can also support your sales call and be used as a leave-behind.

They're effective. Regular research shows that newsletters work. They help to build a customer relationship and from this can stem additional business. Our previous research findings have shown that on average 75% of recipients feel better disposed to doing business with a company after receiving a newsletter from them.

You have the option of receiving your 4 page 'personalised' newsletter in either a printed or electronic format - or both. Whatever best suits your needs.

Your own personalised newsletter requires minimal input from you, aside from providing a commitment and contact details. The rest is down to us!

And, if you need any convincing that on-going newsletter marketing works, then consider this. 87.5% of firms that have taken 5+ issues of The Mortgage newsletter since 2003 are still trading - somewhat better than the massive fall-off across the overall marketplace over the last couple of years!