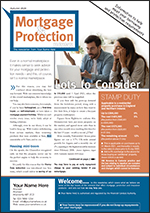 Don't just listen to us, this is a selection of what fellow brokers say about the newsletter...
"We've been using your newsletters for several years, and in this time our adviser base has grown from two to fifteen advisers. This certainly owes a great deal to your well-crafted and informative productions, which help in retaining and advising our existing clients on a more regular basis. Return on investment? The latest issues have generated just over £20,000 in immediate sales!"
Ashley Brown, Moneysprite
(Takes 300 printed copies + pdf)
"Our Spring issue generated £5k+ in business straight away on ASU so thanks again."
Mark Sarratt, Property & Commercial Finance Limited
(Takes PDF)
"We sent copies of The Mortgage to our client base, pretty much for brand awareness if nothing else and always find this generates a small number of enquiries. The latest newsletter led to an Equity Release enquiry which will generate over £2,500 of fees! I'd like to think we would have been first point of call from the client but certainly The Mortgage made sure this happened."
Russell Martin, Surrey Finance Bureau
(Takes 200 printed copies)
"A lot of people commented on how professional it looked. It went out to our existing clients and we did a few calls leading to appointments."
Lisa Rhodes-Smith, JRS Financial Services
(Takes 600 printed copies)
"I used the spring issue to try and re-establish links with clients that I had not had contact with for a while. On the back of a simple mail out to these clients I am happy to say that as a direct result I was contacted by a client I had not spoken to for 4 years and that resulted in new business worth many times more than the cost of the newsletter."
Darrell Pooley, Independent Mortgage Options Ltd
(Takes PDF)
"In today's ever increasingly competitive market, it is a great way of keeping in touch with your clients and promoting recommendations and customer loyalty."
Enzo Mora, The Mortgage Brain
(Takes 1,500 printed copies)

"The printed version has gone down very well with my clients. It did bring in some business, but mainly raised awareness."
Wendy Malczyk, Mortgage Keys (Three Counties) Ltd
(Takes 200 printed copies)

"I had a great response from the January issue . . seemed to remind people that we are still around . . . so really pleased. Looking forward to sending the next issue in May."
Gerald Selvey, Regency Partnership Mortgages
(Takes PDF)
"I do monthly newsletter to my client bank already and once a quarter I send this out and request that they forward it to anyone who may be interested. I find we do get calls from it which may be because we keep in contact with our clients regularly anyway."
Simon Hughes, Charles Conran Financial Services Limited
(Takes the PDF)
"We posted the newsletter to 300 clients, aiming for it to arrive on a Saturday and followed it up with a phone call on the following Tues/Weds evening."
"Here is a breakdown of the results:

Appointments to be made immediately = 21
Nothing immediate but policies/mortgage renewal imminent = 17
No current requirement but renewals due in next 12 months and happy to be contacted = 54"
"For us the campaign was a great success. I would estimate we have written about £2,500 of business so far from the first 2-3 appointments. Who knows, in 12 months it could be £20,000 from 20 appointments!"
Andy Leivers, P&B Financial Services
(Takes 300 printed copies)
"For your info the latest newsletter is being very well received and I am thrilled with the feedback I am receiving - in turn, I am very optimistic such interest will turn into business."
Phillip J Appleby, Cary Independent Mortgage Services
(Takes 200 printed copies)
"Thanks to The Mortgage Newsletter we have seen an increase in business volumes from our existing customer base, as well as a means of keeping in touch - so increasing customer loyalty."
Bill Edisbury, Ratcliffe Mortgages
(Takes the PDF version)
"I've had some positive feedback from the two issues we've sent so far. Sadly, no sales as a result, but the clients feel more in touch as a result."
Colin Bowen, Berry Bowen Financial Services
(Takes the PDF version)
"With the ever-decreasing mortgage market it is even more important to use anything that gives us an advantage over the competition, the first step is with our existing clients, you know the ones that we have done all the hard work for before!
What better way than to remind our clients of our name and service again than by a professionally presented News Letter, after all you never know you may even re-broker them when the time comes or even better get a referral.
It's all about how we project our image and service if we are going beat the Direct deal market, just remember 'you have to speculate to accumulate'."
Alastair Thomas, Park Row
(Takes 200 printed copies)
"All in all, I've probably earned £6,000 so far."
Laura Stonard, Lifetime Value
(Takes 200 printed copies)

"We decided to use the newsletter for three reasons; First, we found that if we did not regularly keep in touch with our clients and prospects then, despite best intentions, they did complete business elsewhere. The cost of this was many thousands of pounds per year. Second, we wanted to increase our clients and prospects level of knowledge, and the newsletter certainly helps us achieve this. Finally, it helps to meet the new FSA rules on client contact.
We first used the newsletter in the Summer of 2004. We sent out 400 and within three days had written three times as much business as the cost of the newsletter."
Chris Downham, Simplicity Financial Services
(Now takes 800 printed copies)


"We send the newsletter to our existing client bank as a continuous form of contact - the publication goes down well and gives the impression that we've produced it!"
Stuart Phillips, mortgagesource
(Takes 300 printed copies)


"One client said it's only because he saw my newsletter, that he was prompted to get back in touch, enabling me to earn £1,500."
Jane Dawson, JD Associates
(Takes electronic PDF version)


"I used the newsletter to prospect for new clients and immediately generated three pieces of business."
Martin Beckley, MB Mortgages
(Takes 200 printed copies)

"We started with the electronic copies, with not too much success as a result of the consumption of ink and papers involved.
But when we switched over to the paper version, the result was amazing. l distributed 200 copies of the Summer edition and benefited from the excellent response emanating from the newsletter. We had about 33 leads and converted about 24 pieces of business. This, in effect, equated to around £20,800 commission."
Tunde Akintola, Bazie Financial Services
(Takes 200 printed copies)


"The initial feedback was exceptionally good and many clients commented on the newsletter."
Mark Sykes
(Takes 200 printed copies)

"We shall purchase more issues in the new year, as we have just signed up a £1,000 policy on the back of these."
Chris Garland, Asset Alliance
(Takes 200 printed copies)

"I started using the newsletter as a way of keeping in touch with my clients, what I then found was that I usually got about 6-7 enquiries for new business, which usually converts to about 2-3 new cases each time. But what I find most rewarding is what my clients say. For example, one of my clients, when I was visiting her, had said to her friend: 'It's great that Len sends this newsletter out to me, that's why I won't go anywhere else, because it shows he cares'."
Len Silverstone, Studio Mortgages
(Takes 300 printed copies)

"Just had a client email me with a list of 9 pieces of business they need us to do. They said that it was getting our last newsletter that reminded them."
Chris Downham, Simplicity Financial Services
(Takes 800 printed copies)

"Just thought I'd drop you a line to let you know that the last newsletter proved to be a real hit with our existing clients. As a rule we send it out en-masse once a quarter and it is now our main method of contact with our existing clients. Since we started using the newsletter we have found that client contact has increased considerably and we remain fresh in their minds for now and the future."
John Mills, Mortgage Index
(Takes 300 printed copies)

"I wrote 2 pieces of business within one week of the leaflets going out. Worth over £3,000."
Paul Johnson, Mortgage4home.co.uk
(Takes 200 printed copies)


"Sorry Russell, but I can't take the latest issue, as I've had too much business coming through from the first two issues I bought. I made around £22,000 commission from the initial one and about £10,000 so far from the last issue – with business still coming in. However, I'll return for the Summer one, since this is the only marketing I now undertake – as I no longer need to buy in leads."
Calum McKenzie, Calum Thomas McKenzie Financial Services Ltd
(Takes 200 printed copies)