The Spring/Summer 2019 issue covers a number of Equity Release issues. And, if wanted, you can have an alternative cover date.


Click here to download/view the promotional PDF of this issue.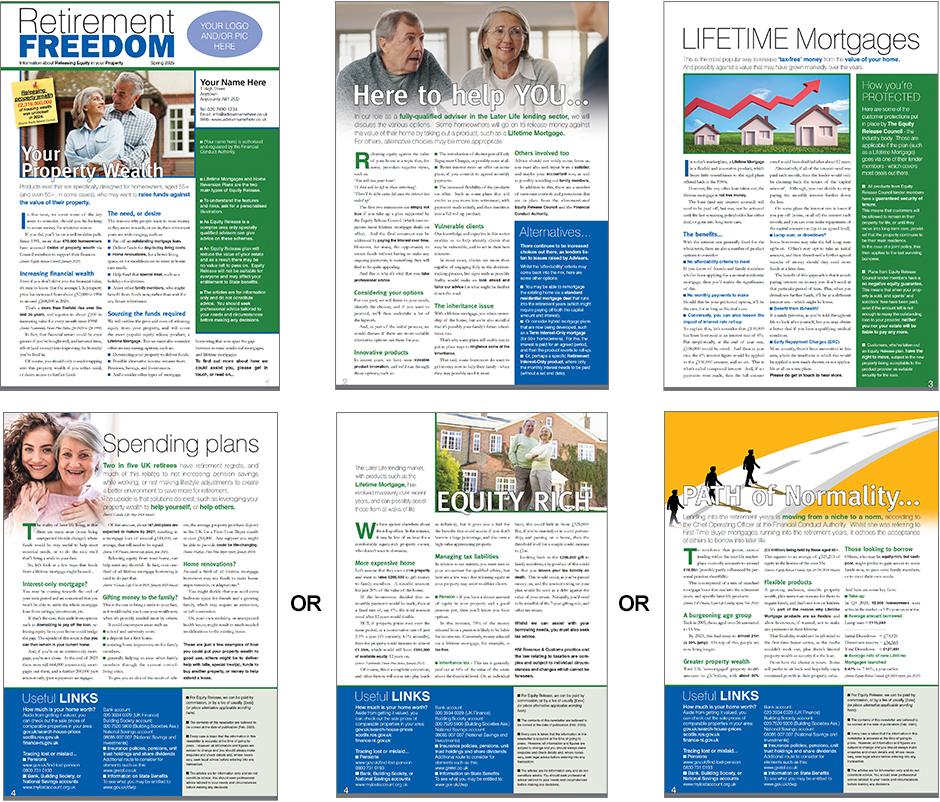 The key objectives for this newsletter are to reassure, inform and enthuse the reader that equity release could be a suitable option for them across their retirement years.
Reassure
This is conveyed by highlighting the protection afforded by the Equity Release Council's code of conduct.
Or the inclusion of text setting out that alternative routes should be considered too, as equity release is unlikely to be the only option for them.
Although the testimonials and market growth facts will demonstrate that it is an option for an increasing number of people.
And that you can be there to hold their hand through the whole process.
Inform
Throughout the issue we will convey how the retirement marketplace is changing – with an ageing population, limited resources to fund the retirement years alongside the introduction of the pension freedoms.
We paint a picture of the diverse group of people who opt for equity release to meet an increasing range of needs.
All backed up by research that shows an increasing number are considering their home as an additional pension.
Or more specifically, we'd cover Lifetime Mortgages.
And we raise the issue of roll-up but look at it in context of positive house price growth, and ways to minimise roll-up, such as drawdown.
Enthuse
Equity release could be a solution for them, by helping to meet costs, or perhaps allowing them to do some of the things they wanted to achieve in retirement, or to be able to help out other family members, whilst they're still alive. Whatever they need the funds for, it shows that equity release could deliver a better quality of life for them.
Throughout the issue, the 'pay-off' is either to get them to make contact with you to find out more, or to feel that you would be the best point of contact when they do need to consider (additional) funding for their retirement years.