The Summer/Autumn 2017 issue is available now. And, if wanted, you can have an alternative cover date.

Click here to download/view the promotional PDF of this issue.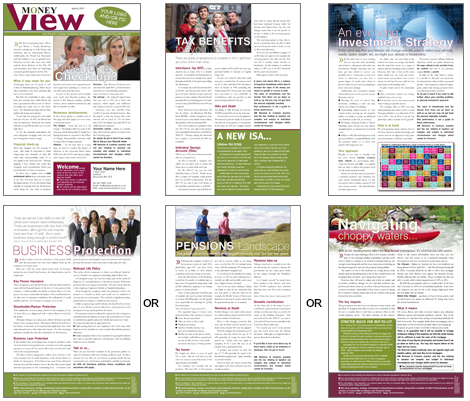 In this issue, we set out the key developments surrounding Brexit, the introduction of the pension reforms and government tax, savings and investment announcements. We also look at formulating an investment approach and the tax-efficiency of ISAs. And include story options on areas such as protection and Buy-to-Let.
Throughout the newsletter, the whole editorial thrust is to inform, reassure and enthuse readers with the constant underlying message of the importance of taking advice.
We also recognise the growing importance of branding and now offer the choice to have both printed and pdf copies fully corporately coloured up to reflect your logo colour and brand identity.
Additionally, with regard to the PDF version, due to demand we now offer a 6 page version, that includes all three page 4 story choices for an extra charge, which should help to convey the range of advice you can provide.
To ensure the issue is as up-to-date as possible when you jump on board, we will update some of the copy as we progress through the publishing period.
And throughout the issue, the whole editorial thrust is to get them to either make contact with you to find out more, or to assist client retention by reminding them that you would be the best point of contact when they do need to review their finances.