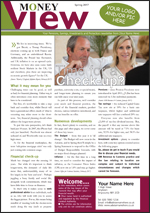 If you're involved in selling pensions, investments and protection products, here's an opportunity for you! You can have your own personalised client newsletter – Money View. We even give you the opportunity of adding a mortgage story, if wanted.
The 4 page newsletter can keep you in touch with your clients, target new prospects, generate business and help meet FCA contact requirements. Published three times a year, each issue covers topics affecting the pensions, investments and protection marketplace.
The Summer/Autumn 2017 issue is available now – book now to secure your copies. And, if wanted, you can have an alternative cover date. This issue, along with all others, is pre-compliance checked - although you can also check it yourself, or show it to your network (where we may already have clearance).
This type of communication works:
• It keeps you in touch with your clients and prospects – and regular distribution keeps your name 'front of mind'.
• It helps meet TCF client contact requirements.
• If you get the timing right, it can generate immediate business.
At BlueStone, we have over 20 years' experience of producing financial publications, so know how to create a winning newsletter for you. And as we write and design it, and handle compliance clearance, you can concentrate on what you do best - advising and selling.
To see for yourself, why not take a look at the sample issue. And, if you want to proceed, complete the order form , and we'll then email back a layout with your contact details for checking.