This 'occasional' pure Protection issue delivers an overview of some of the key areas to consider. And, you can have it cover dated to reflect your planned usage of it.


Click here to download/view the promotional PDF of this issue.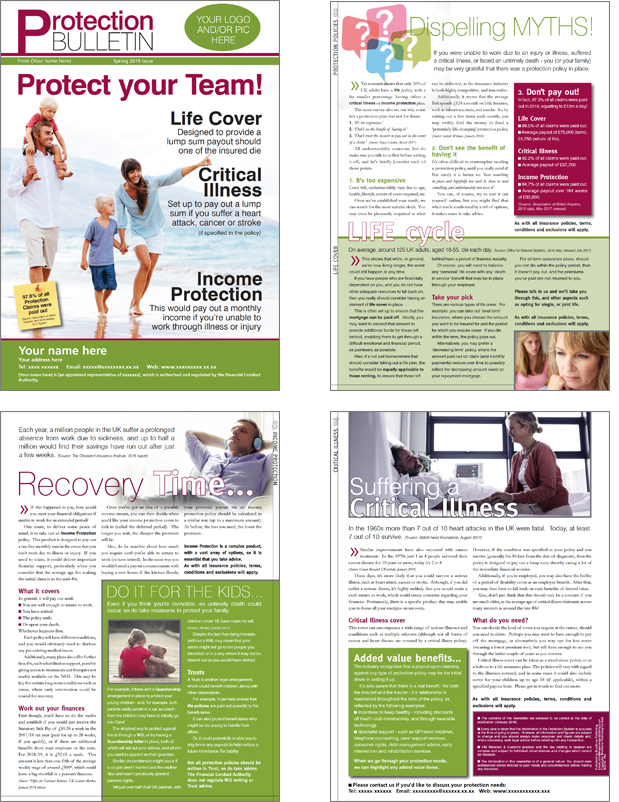 This 'occasional' newsletter is designed to deliver an overview of the main protection areas, and in the process, to convey that over 90% of all claims are paid out and that - with often fairly minimal financial pain - a client may be able to find the extra money required to deliver some vital protection for them and their family.
The newsletter came about from a request from advisers who were keen to:
leverage the return from the advice process, or use it as a means to reconnect.
make the client fully aware of the protection products on offer that may deliver assistance, should the worst occur.
ensure they are better covered should this ever be an advice problem into the future, if a client does not want to take up protection.
The newsletter is being used as an introductory/reminder prompt, a leave-behind, or both. Combined with this, advisers would also endeavour to get the client to sign that they're either interested to hear more about the protection offering, or that they were made aware of the protection options, but didn't require this service. Which, in itself, may subsequently prompt some clients to rethink the benefits, particularly if they take a look through the newsletter.
In short, this is a topic that's increasingly in the trade media (7families being just one example), is something that most networks are regularly promoting and is simply good and importance advice to convey to clients. Hence a number of 'pdf' users opting to also take 'printed' copies of this 'occasional' newsletter.